We're well into the weekend now, it is early Saturday evening and I'm starting to think about getting ready to bath and put the kids to bed. I have snatched a few minutes from domesticity to write this.  You see, this weekend my wife is away with a large group of women who have descended to a large cottage in the forest to eat, drink, dance and have facials. Oh and taste champagne as well, did I mention that? Yeah, so while she's been living it up since Friday afternoon, I've been home with the kids. It's not so bad, there are times when I wished that they could be nicer to each other and times when they are just so moody - but outside of THOSE times we have fun. Today, I had to take my son for his swimming class, so we up relatively early and after swimming I had a bill to pay and we took a trip to the library. Then I had to take my daughter to a friend who was having a party, while she did that I took the boy to the supermarket to get some food. I bought us some root vegetables and hot dogs because for tea I made: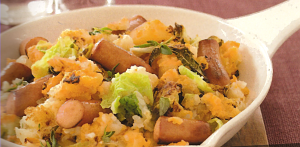 Vegetable and Hotdog Hash! Swede, parsnip, savoy cabbage, potato, sweet potato boiled mashed and fried with lovely hotdog sausages. I loved it, the kids weren't too fond, except for the sausages that my daughter picked out. That's the trouble with kids, you go to great lengths to try something different, buy fresh seasonal veg, chop it up, cook it up and deliver it right to where they sit and then they pick what you knew they would eat and disregard the stuff that would do them some good. At least I can say I tried. Its just a good thing I had a backup cooking in the oven (frozen pizza). That picture was from the recipe although I have to say mine looked almost exactly the same.
Since my wife is enjoying herself, this evening I have plans for my own fun. Last Christmas we got a gaming chair from my mother in-law. It was a very strange choice of gift but who am I to quarrel? I rarely get the chance to get it out but tonight is the night; oh yeah baby! I've bought some beer with a hint of lime that's chilling nicely in the fridge and I have a bag of nuts to consume while I play videogames until I fall asleep.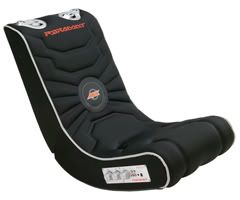 It may not be champagne tasting and a facial, but I'll be home, warm and cosy. Oh crap, it still doesn't sound as much fun as my wife's weekend! I should get some friends, I really should....